HAMLYN ORCHIDS LIMITED
31 KINGS HOUSE AVENUE, KINGSTON 6, JAMAICA, W.I.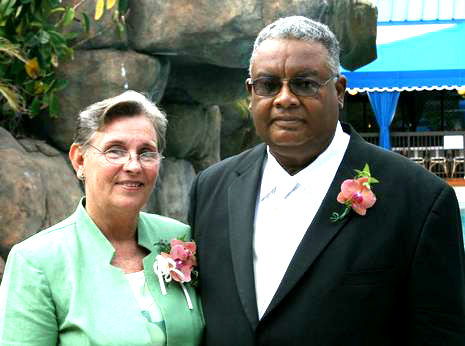 Hamlyn Orchids a small, family owned business, located in Kingston, Jamaica. It is owned and operated by Claude and Elizabeth (Betty) Hamilton, and was founded in 1983. Betty is a Travel Consultant. Claude has been growing orchids for over fifty years and is a former President of the Jamaica Orchid Society and is a life member Jamaica Horticultural Society. An Accredited Judge of the Jamaica Orchid Society since 1986 and of the American Orchid Society since 2000. He is affiliated with the Florida Caribbean Judging Center in Miami, and has judged and lectured in over 34 countries. At age 14 he was one of the founders of the St. James Horticultural Society in Montego Bay, Jamaica. He is well known as a hybridizer (breeder) of orchids and lectures on orchids, orchid culture and orchid judging. Perhaps best known as a breeder of Broughtonias, Encyclia , Myrmecophila, Laelia and their hybrids. his hybrids have won many awards at orchid shows in several countries including over two hundred awards from the American Orchid Society.
Claude hasbred Dobermann Pinschers and a variety of other breeds of dogs as a hobby. He has been a member of the Jamaica Kennel Club since 1971 and served for many years as a member of the club's Executive Committee and as Hon. Secretary. He is a founder and life member of the Dobermann Pinscher Club of Jamaica and served as it's first president.
Most of the orchids grown in our nursery are propagated from seed in our own facilities in Kingston. We are well known as growers of interesting species and hybrids and our inventory of plants covers a very wide spectrum of warm growing types from botanical curiosities to pot plants. We have plants of all sizes from flask to blooming size for sale. The main criteria that we use in hybridizing are that the plants produced must grow well in hot climates, they must be easy to grow and flower, and must be of the highest possible quality.
We ship wholesale quantities worldwide by air cargo or DHL. Prices quoted are FOB our nursery. All retail sales are handled at our nursery.
Importing countries usually require that the importer first obtain an import permit and that each shipment of plants be accompanied by a C.I.T.E.S. Certificate (indicating that the plants are either artificially produced or are not endangered in the wild) and a Phyto-sanitary Certificate, indicating that the plants were inspected and found to be free of pests and diseases.
We do not have a printed catalogue or price list other than our listing on this site.
Webmaster - Claude W. Hamilton
Hosted by Chrysalis Hosting
Copyright © 1996-2015
Claude W. Hamilton.